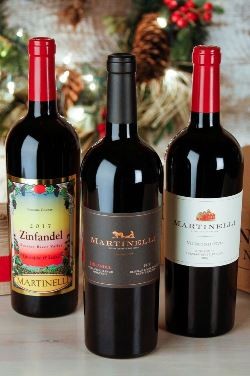 2019 'Tis the Season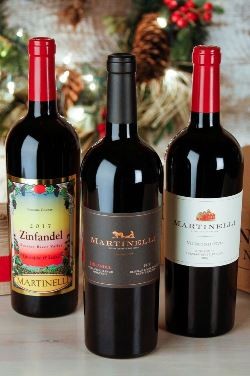 Zinfandel is our heritage grape, and anyone who enjoys Martinelli Zinfandel will love this package! All of our Zinfandel vineyards have been started with budwood from our 130+ year old Jackass Hill vineyard.
2017 Giuseppe & Luisa Zinfandel
Our 2017 Giuseppe & Luisa Zinfandel has aromas of strawberry, raspberry, white peach, and clove. On the palate, it is juicy with Bing cherry and spices, followed by a strawberry-cream finish.

2017 Vellutini Ranch Zinfandel
Our 2017 Vellutini Ranch Zinfandel has white peach, milk chocolate and juicy cherry aromas with sweet flavors of nectarines, cinnamon, and dark chocolate covered cherries.
2016 Vigneto di Evo Zinfandel
Our 2016 "Vigneto di Evo" Zinfandel has a nose of rich red raspberry, cinnamon, and sweet clove. On the palate, juicy red plum and black cherry give way to exotic spice and a long finish.