Harvest Dinner 2019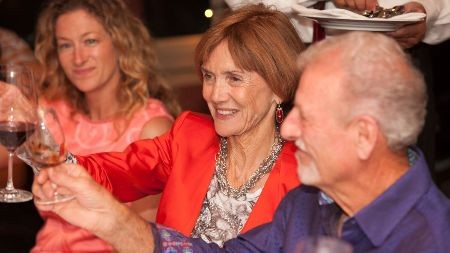 We hope you'll join us on August 24th to celebrate Harvest Season with us. We've planned a lovely evening under the stars hosted by the Martinelli family. Lee Sr. and Carolyn Martinelli will share the history of our winery, estate vineyards, and wines with each thoughtfully paired course.
Martinelli Winery
Saturday, August 24th
6:00 pm Reception
Dinner to Follow
Tickets are $175 per person until August 9th
$185 per person after August 9th
(tax and gratuity included)
Harvest Dinner Menu
Reception
Shrimp Kaddaif, Orange Glaze Drizzle
~
Avocado & Cotija Cheese Mini Tostada

First Course
Royale Day Boat Scallop,
Sweet White Corn, Piquillo Pepper, Pepitas and Shallot Crumble

Second Course
Martinelli Ranch Rabbit Saltimbocca,
Green Cabbage, Parmesan, Proscuitto, Sauce Soubise

Third Course
Herbes de Provence Crusted Beef Tenderloin,
Summer Vegetable "Fricassee", Jus De Roti

Fourth Course
Fresh Seasonal Fruit Dessert

Menu by Chef Didier Ageorges of Pascaline Fine Catering
*Please let us know of any dietary restrictions ahead of time
so the chef can plan accordingly.