Gift of the Magi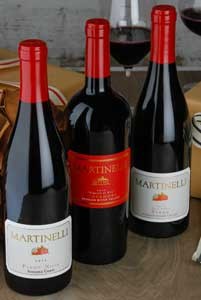 2014 Sonoma Coast Pinot Noir
The 2014 Sonoma Coast Pinot Noir has aromas of rose petals, molasses, raspberry and sandalwood. Juicy flavors of strawberry and spicy plum make for a very approachable and easy-drinking wine.
2015 Vigneto di Evo Zinfandel
The 2015 "Vigneto di Evo" Zinfandel has a nose of sleek, briary cherry, and spice box. The palate is a ripe textured red cherry and blackberry with floral notes on the finish.
2015 Terra Felice Syrah
The 2015 Terra Felice Syrah has aromas of firm graphite, supple plum and bright red cherry. The palate is well structured with notes of juicy blackberry.